A week ago I went to New Orleans to visit two close friends. I had a blast! It was my first visit to the city that is home to Mardi Gras. I was surprised by how much New Orleans reminded me of Houston too. Maybe it is just the humidity? My friend was a great host of the city. We went on a boat tour of the Mississippi river, ate TONS of food and saw live music. If you ever go to New Orleans, don't miss Cafe Du Monde.
(http://www.cafedumonde.com/)
I don't think I have ever had better beignets and the coffee wasn't shabby too. All and all, the weekend was great. On Sunday morning, my friend's friends (that makes sense right?) hosts pot luck brunch. I was excited to contribute to brunch with this
Classic Crumb Cake
from
Martha Stewart's Baking Book.
Makes One 13 by 9 inch cake
Ingredients
1 1/4 sticks unsalted butter, room temperature plus more for the pan
2 1/2 cups all-purpose flour
1 teaspoon baking soda
1 teaspoon baking powder
1/2 teaspoon salt
1 cup granulated sugar
3 large eggs
1 teaspoon pure vanilla extract
1 1/4 cups sour cream
Crumb Topping (see recipe below)
Confectioners' sugar for dusting (optional)
Directions:
1) Preheat the oven to 350F. Generously butter 13 by 9 inch baking pan; set aside. Whisk together flour, baking soda, baking powder, and salt in a bowl; set aside.
2) In the bowl of an electric mixer fitted with paddle attachment, beat the butter and sugar until light and fluffy, about 4 minutes, scraping down the sides of the bowl if need. Add the eggs, one at a time, beating until incorporated after each addition. Mix in the vanilla. Add the flour mixture and sour cream; beat until just combined.
3) Spoon the batter into the pan, and smooth with an offset spatula. Sprinkle the topping evenly over the batter. Bake, rotating the pan halfway through, until the cake is golden brown and a cake tester inserted in the center comes out clean, 40 to 50 minutes. Transfer to a wire rack to cool. Before serving, dust with confectioners' sugar, if using.
*Crumb Topping
Ingredients
3 cups all-purpose flour
1 cup packed light brown sugar
1 tablespoon ground cinnamon
1 1/2 teaspoons course salt
3 1/2 sticks unsalted butter, room temperature
Directions:
In a medium bowl, whisk to combine the flour, sugar, cinnamon, and salt; cut in the butter using a pastry blender, until large, moist clumps form. (Alternatively mix together in a food processor) Topping can be refrigerated in an airtight container for up to 2 weeks.
The learning issue for this entry is a technique "Cutting in Butter". This is one of the steps of this particular recipe. I remember the first time I saw this instruction in a scone recipe I was thoroughly confused. Questions that I had were: "What is cutting in butter? Do I really need a pastry blender? What is a pastry blender?"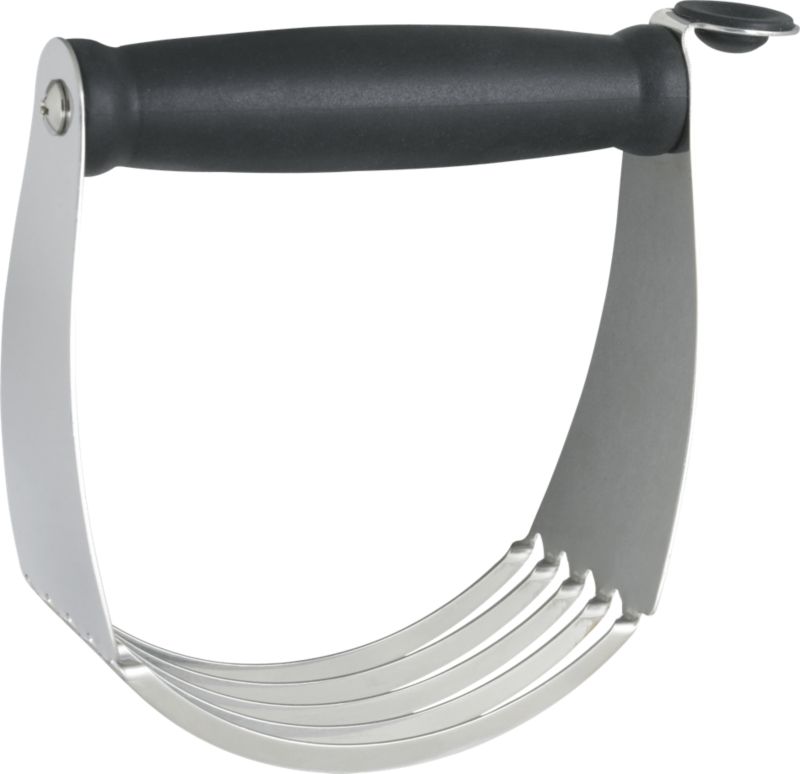 Above is a picture of the infamous pastry blender. They are relatively cheap and can be bought for between $5 and $15 dollars. Their function is essentially to "cut in butter" by blending a solid fat with flour to create a flaky dough. In a recipe in which one "cuts in butter", the butter or fat ingredient (lard, etc) first and foremost must be cold. The pastry blender then acts like a knife in slicing the butter into small pieces. When baked, the dough then become flaky. So this technique is ideal for scones, biscuits and other various pastry doughs. It is also often used for pie crusts. If you choose to not purchase a pastry blender (like myself), you can use a fork or two knifes to achieve the same effect. However, be aware that this particular method takes a lot longer!
This is one of the few recipes that I have made by Martha that was slightly disappointing. The crumb did not taste right. It was far inferior to the Crumb I made for the Cinnamon Crumb Surprise Bread that I made a couple of weeks ago. The crumb adhere well to the cake beneath it either. There needed to be a cinnamon sugar filling connecting the two or a much moister crumb topping. The cake itself was moist and tasted good, but was nothing special for the amount of time it took to make this cake. Without the pastry blender, the prep time was close to 50 minutes for this cake. Overall, I give this
Classic Crumb Cake
3.0 out of 5 stars. People liked it at the brunch that I brought it to, but it could have been soooo much better!